Suitable Fastening Set for Training Board BIG for Concrete Walls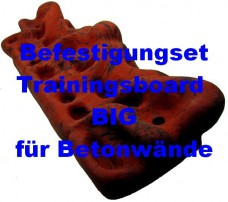 Description
Suitable Fastening Set for Training Board BIG for Concrete Walls
Included in delivery: three suitable cylinder head screws and three expansion anchors
With this set you can fix the training board directly to a concrete wall.
Important Information:
Many climbers fix the traing board above the door frame. In many houses, there is a bigger concrete block directly above the door frame, which is of the same width as the whole door. Please check the basic structure of your building with a small test drill.
Fastening:
First you put the training board on the concrete wall and, with a pen, mark the spot where you want it to be fixed. Then you drill the holes with a 12 mm concrete drill at the marked spots, about 4 cm deep. Now clean the holes from the dust and afterwards put the expansion anchors into the holes. Now the training board can be fixed with the delivered screws.
IMPORTANT: If there is a thick rendering (more than 6 mm) on the concrete block, please contact us and we will adjust the length of the screws.
And now you are ready to go for training, the next higher level of difficulty is already waiting for you.