Yoga –Mat PROFESSIONAL in different Sizes and Colours Yogamat with Suspension Eyelets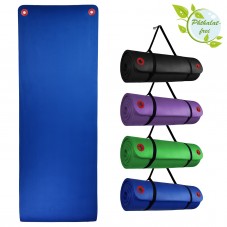 More productimages
Description
Yoga –Mat PROFESSIONAL in different Sizes and Colours Yogamat with Suspension Eyelets
PHTHALATE FREE
Now with handy suspension eyes for storing your gymnastic mat quickly, conveniently and space-savingly. Not only perfectly suitable for schools, clubs and gyms, but also a comfortable solution for your home.
Yoga is the relaxation technique no. 1 and one of the most popular sport of our time. It comes from India and means unity and harmony. Yoga influences harmonisation of body, mind and spirit and provides a higher quality of life, balance and energy. Due to its cushioning this mat is a comfortable bolster and suitable for both beginners and advanced yogis. Since it is equipped with an anti-slip base it offers appropriate security during exercises.
The processed nitrile rubber is a synthetically produced rubber and has a high persistence against oils, fats and hydrocarbon. It is especially well suitable for all who suffer latex allergy, since natural rubber (native am. tear of the tree) is usually obtained from latex. The initial smell, reminiscent of caramelised liquorice, evaporates after a few days.
Details to the fitness mats with lugs:
Material of mat: extra soft, high-quality non-slip and wear-resistant foam (NBR (phthalate free))
Material of eyelets: metal with rubber ring
Antibacterial and antiallergic
Skin-friendly, body warming and waterproof
Very high quality standard
Can be rolled up or hung up thanks to the handy metal eyelets
Versatile and portable at any time since it is equipped with elastic straps and carrying strap
Ranges of use: Yoga, aerobics, spine-friendly abdominal workout, pilates, gymnastics, antenatal exercises, workout both at home and in the gym
Included in delivery: 1 yoga mat in your desired size and colour, straps, German manual
Technical Data of our Gymnastic Mats:
ENERGY Professional:
HARMONY Professional:
Dimensions (LxWxH):
190 cm x 100 cm x 1.5 cm
180 cm x 60 cm x 1.5 cm
Eyelets:
Distance to each other: 90 cm (centre of eyelet to centre of eyelets)
diametre: approx. 2.5 cm
Distance to each other: 54.2 cm (centre of eyelet to centre of eyelets)
diametre: approx. 1.6 cm
Weight:
2150 g
1350 g
Colours:
Balance Blue, Combat Black,
Natural Green, Vivid Violet
Balance Blue, Combat Black,
Natural Green, Vivid Violet