Hexagon key "Professionell 2.0" size 8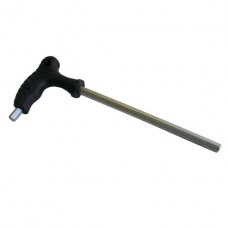 More productimages
Description
Hexagon key "Professionell 2.0" size 8
| | |
| --- | --- |
| Size of screw heads: | 8 (suitable for cylinder head screws DIN 912 size M10) |
| Overall length: | 22 cm, of which 16 cm hexagon profile |
| Overall width | 9 cm |
This hexagon key "Professional 2.0" is completely revised and caters specifically for the climber's needs.
A small hexagon profile on the synthetic handle allows for climbing holds with a standard bore hole to be fastened tightly as the long hexagon profile achieves excellent leverage.
The long hexagon profile on the other hand allows for large climbing holds with deep bore holes to be fastened hassle-free. The climbing hold can be additionally tightened with a size 20 screw-wrench or with pliers in case the leverage on the synthetic handle is really not enough. There is an octagon on one end of the handle for this purpose (please see detailed image).
The handle is also equipped with a hole through which you can thread a cord to easily fasten the hexagon key on a carabiner.
All advantages at one glance:
Easy fastening of climbing holds thanks to the excellent leverage
Easy fastening of climbing holds with very deep holes
Convenient to carry thanks to the hole in the T handle