Verlängertes Rückgaberecht bis 14.01.2017 für entspannte Weihnachtseinkäufe!
Climbing Shoe Black Panther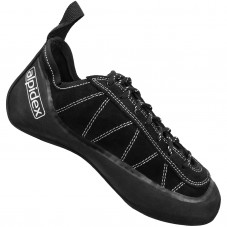 More productimages
Description
Climbing Shoe Black Panther
Sporty and speedy – our climbing shoe Black Panther. Not only is its excellent wearing comfort a convincing feature of this shoe, but also the elegant black and white design. Admiring glances will follow you around in any climbing hall with this shoes. Black Panther is made of leather, the tongue is lined and thanks to the lacing it fits just any footprint. The non-slip rubber sole guarantees ideal grip on small treads. This shoe has no pretension. Black Panther unites every aspects which make a climbing shoe perfect: design, performance and price.
Size Chart:
| | | | | | | | | | | | | |
| --- | --- | --- | --- | --- | --- | --- | --- | --- | --- | --- | --- | --- |
| Size EU: | 36 | 37 | 38 | 39 | 40 | 41 | 42 | 43 | 44 | 45 | 46 | 47 |
| Size UK: | 3,5 | 4,25 | 5 | 6 | 6,5 | 7,5 | 8,25 | 9 | 9,5 | 10,5 | 11,5 | 12,25 |
| Size US: | 4,5 | 5,25 | 6 | 7 | 7,5 | 8,5 | 9,25 | 10 | 10,5 | 11,5 | 12,5 | 13,25 |