Verlängertes Rückgaberecht bis 14.01.2017 für entspannte Weihnachtseinkäufe!
​Climbing Shoe Red Fire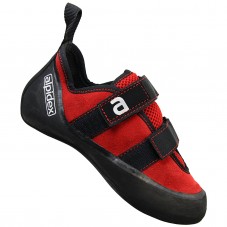 More productimages
Description
Climbing Shoe Red Fire
The climbing shoe Red Fire is our latest innovation. This shoe will inflame every climber's fascination when climbing a mountain, rock or even indoors. The durable manufacture is to be pointed out. Red Fire is made of genuine leather, which ensures a high wearing comfort. It is comfortably cut and offers excellent edge stability at a convincing price-performance ratio. Narrow ridges, small holes and flat slopers – brilliant foothold everywhere thanks to the Red Fire's nonslip rubber sole. The convenient hook-and-loop fastener ensures a quick putting on and off. All these features make our Red Fire the ideal climbing show for difficulty levels 4 to 8. Now off we go aloft – a fiery adventure is waiting for you .
Size Chart:
| | | | | | | | | | | | | |
| --- | --- | --- | --- | --- | --- | --- | --- | --- | --- | --- | --- | --- |
| Size EU: | 36 | 37 | 38 | 39 | 40 | 41 | 42 | 43 | 44 | 45 | 46 | 47 |
| Size UK: | 3,5 | 4,25 | 5 | 6 | 6,5 | 7,5 | 8,25 | 9 | 9,5 | 10,5 | 11,5 | 12,25 |
| Size US: | 4,5 | 5,25 | 6 | 7 | 7,5 | 8,5 | 9,25 | 10 | 10,5 | 11,5 | 12,5 | 13,25 |