100 x Impact Anchor/ Drop-in Anchor Galvanised SAK M10 incl. TECHNICAL APPROVAL
More productimages
Description
100 x Impact Anchor/ Drop-in Anchor Galvanised SAK M10 incl. TECHNICAL APPROVAL
Approved for anchoring in non-cracked concrete
Quick and economic fitting
Application:
The drop-in anchor is perfect for fixing climbing holds to non-cracked concrete.
Properties:
Drop-in anchors suit all screws and thread rods with metric thread
The low embedment depth reduces the drilling time and provides economic fixing
After driving repeated removing or fixing is possible as the anchor itself remains in the drill hole
Electrolytically galvanised
Approval no. ETA-04/0011 for anchoring in non-cracked concrete
Approval no. Z-21.1-1745 for anchoring in lightweight ceiling linings
Fire prevention checked
Principle of Operation:
After setting into the drill hole, the nose of the drop-in anchor is forced apart with a setting tool. Then the climbing hold is screwed into the inside thread.
Instruction for Use:
Drill a hole
Clean the drill hole with a brush and/or a blowout shot
Insert the drop-in anchor to the effective anchoring depth. This is reached when the expanding sleeve doesn\'t protrude beyond the concrete surface
By hitting the cone via the setting tool, the anchor is fixed. It is duly set when the setting tool is in contact with the sleeve
Screw the climbing hold into the thread.(Don\'t use more torque than allowed according to the table of technical data)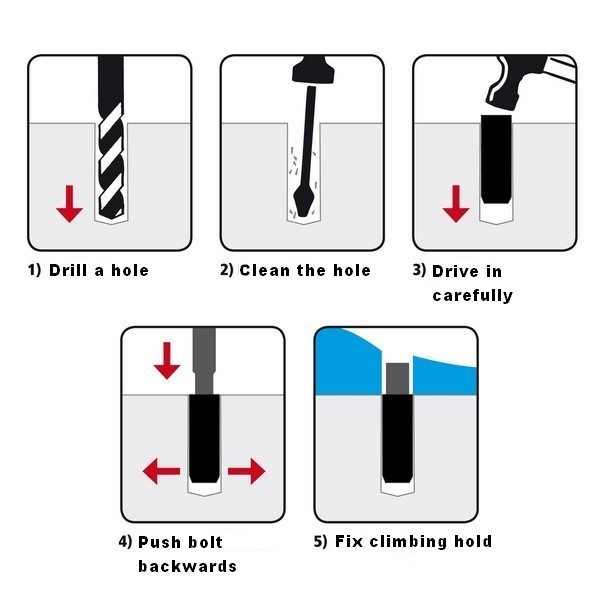 Technical Data:
| | |
| --- | --- |
| | M 10 |
| Drilling depth [mm] (achoring depth, embedment depth) | 44 |
| Drill hole diameter [mm] | 12 |
| Recommended resistance per anchor in non-cracked concrete [kN] incl. partial safety factor | 3.0 |
| Torque when anchoring | 15 |
| Thread diameter [mm] | 10 |