Chipboard screws, zinc-coated, hexalobular internal screw, Milling ribs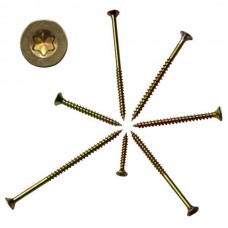 More productimages
Description
Chipboard screws, zinc-coated, hexalobular internal screw, Milling ribs
Details about chipboard screw:
Chipboard screws in absolute 1A professional quality!
The wood screws are also general purpose screws, as it can be used with many other materials such as wood, plasticized/laminated wood, plastic or plasterboard. Due to the many different lengths of chipboard screws we offer (30, 35, 40, 45, 50, 60, 70, 80, 90, 100, 120 mm) we surely offer the screw to suit your individual needs.
Application:
Our chipboard screw may also be used for the construction of wooden frames and structures.
Benefits:
High resistance to pulling out due to the thinner screw shaft
Flush with the material due to the countersunk head with cutting ribs
Here is a detailed overview of which lengths can be combined with which diameters and amounts:
Diameter 4 mm
| | |
| --- | --- |
| Length: | Amount: |
| 30 mm | 1000 Pieces |
| 35 mm | 1000 Pieces |
| 40 mm | 1000 Pieces |
| 45 mm | 500 Pieces |
| 50 mm | 500 Pieces |
| 60 mm | 500 Pieces |
| 70 mm | 500 Pieces |
Diameter 4,5 mm
| | |
| --- | --- |
| Length: | Amount: |
| 35 mm | 500 Pieces |
| 40 mm | 500 Pieces |
| 45 mm | 500 Pieces |
| 50 mm | 500 Pieces |
| 60 mm | 500 Pieces |
| 70 mm | 200 Pieces |
| 80 mm | 200 Pieces |
Diameter 5 mm
| | |
| --- | --- |
| Legth: | Amount: |
| 30 mm | 500 Pieces |
| 40 mm | 500 Pieces |
| 50 mm | 500 Pieces |
| 60 mm | 500 Pieces |
| 70 mm | 200 Pieces |
| 80 mm | 200 Pieces |
| 90 mm | 200 Pieces |
| 100 mm | 200 Pieces |
| 120 mm | 200 Pieces |