Verlängertes Rückgaberecht bis 14.01.2017 für entspannte Weihnachtseinkäufe!
Folding Mat 195 x 90 x 5 cm RG 80 (soft)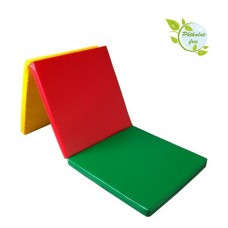 More productimages
Description
Folding Mat 195 x 90 x 5 cm RG 80 (soft)
Information about Material and Sizes
This gym mat is a very space-saving solution. It can be folded twice, so it only needs 1/3 of space. Unfolded it measures 195 x 90 x 5 cm, folded, however, it measures only 65 x 90 x 15 cm.
All our mats are high-quality, CFC-free quality goods. You purchase directly from the manufacturer, that is why we can offer these attractive terms above average. Hence with us, you do not pay for unnecessary retail and wholesale surcharges.
Density and Core Material
The core is made of a high-quality compound foam RG 80 (80kg/m3). RG means volume weight (German: Raumgewicht) and states the degree of hardness of the mat. The higher the volume weight, the smaller the cell structure, i.e. the harder the core. Therefore, a 75 kg person subsides only about 2.5 cm on a RG 80 mat, whereas the same person would subside about 4 cm on a RG 20 mat.
Cover
The cover features a tarpaulin fabric, which is either red, dark green, light blue or multi-coloured. When choosing multi-coloured, each mat segment is of a different colour (yellow/red/dark green). The tarpaulin fabric is made of a tearproof synthetic-polyester-fabric, agreeable to the skin.
Delivery time
Delivery will be made within 1-2 working days. Express delivery within Germany is possible upon previous telephone arrangement.
Custom-Made Designs
You would like a mat tailored to your needs? No problem. Just send us an email to support@dein-klettershop.de or use our other contact possibilities to inform us about your individual sizes and features. You can also choose the cover colour of your custom-made mat, as well as if it should be equipped with hook and loop fasteners, in order to be able to create larger, stable mat areas. Delivery time of custom-made mats is approx. 4 - 7 weeks.
Shipping costs
European Union: 1.mat: 14.99€, each following mat: 9.99€
Germany: 1.mat: 9.99€, each following mat: 4.99€
Switzerland: 1.mat: 29.99€, each following mat: 29.99€
Austria: 1.mat: 12.99€, each following mat: 4.99€
If you would like to collect the goods from us, just let us know and we will arrange an appointment. In case of bulk orders, please contact us, since there is the possibility of shipping the delivery with a forwarding agency.