Verlängertes Rückgaberecht bis 14.01.2017 für entspannte Weihnachtseinkäufe!
Protection of corner pillar
Description
Protection of corner pillar
PHTHALAT FREE
This article is a one-off production. The price given above refers to a mat with 2 Velcro straps for assembly and following size: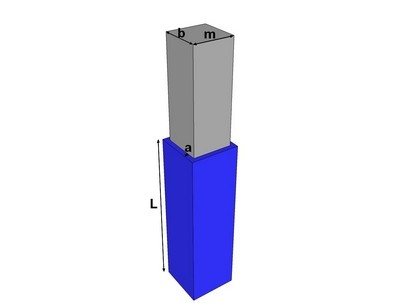 | | |
| --- | --- |
| L (length of protection): | 200 cm |
| a (thickness of protection): | 5 cm |
| m (length of base area of pillar): | 100 cm |
| b (width of base area of pillar): | 100 cm |
Material and measurement
Protection is made of durable PVC material. Inside there is a rigid foam. The protecions can easily and quickly installed and dismantled. CFC-free. This article is produced especially for you. Therefore, the size of your mat is freely selectable.
Cover
Seamless and durable PVC material. You can decide, whether your protection mat should be white, yellow, light blue, dark blue, green or red. Additionally, we offer a huge range of ral colours. Please notice that you can print your protection mat with any mofif of choice, e.g. the name of a sponsor.
Assembly system
By means of Velcro straps both on pillar and mat
By means of metal eyelets: suitable for protections that covers only half of pillar.
Delivery time
4-7 weeks
For a good offer we need following information:
Length of protection (-> sketch L)
Thickness of protection (-> sketch a)
Length of base area of pillar (-> sketch m)
Width of base area of pillar (-> sketch b)
Assembly system (eyelets or velcro)
Postcode of place of delivery
Desired colour
If desired: print
Please send these information at following e-mail addresse: support@dein-klettershop.de