Vacuum bottle flask stainless steel in different sizes by BB Sport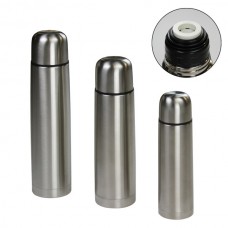 More productimages
Description
Vacuum bottle flask stainless steel in different sizes by BB Sport
The vacuum bottle for hot and cold drinks with a nice and ageless look. The bottle consists of 18/8 stainless steel, and therefore is break-proof, shock-resistant and rustproof. In fact, the double-walled and vacuum-isolated stainless steel body keeps hot liquids warm and cold liquids cold for up to 24 hours.
In addition, stainless steel is tasteless, contaminant-free and recyclable. The vacuum bottle can be closed with a pressure lock which can be screwed in and handled manually. Furthermore, this enables an easier emptying. The sealing of the cap which is made of silicone can be removed in order to make cleaning easy.
Enjoy a cup of coffee or tea wherever you want. Supply your children on any playground. With the resilient vacuum bottle by BB Sport you're all geared up.
Useful tips for a long and satisfied usage of vacuum bottles:
Preheat or precool the vacuum bottle with hot or cold water
Do not put the vacuum bottle into a micro wave or into an oven, nor for heating up a liquid, neither for preheating the bottle.
Do not fill the vacuum bottle with liquids that contain carbonic acid or milk/milk powder.
Do not fill ice cubes into the vacuum bottle
Do not drink liquids directly out of the bottle – danger of scalding!
Because of the danger of scalding, the vacuum bottle is not suitable for an unaccompanied usage by children
When polluted severely, clean the bottle with a denture cleaning tablet or baking powder and war water
Do not clean the bottle with a dishwasher
Do not put the bottle completely underwater, since this might cause water entering into the isolating double-wall construction.
Do not fill the bottle brimful – this might impede that the pressure lock can be locked
Details about vacuum bottles:
Capacity:
500 ml
750 ml
1000 ml
Height:
24 cm
29,5 cm
33,5 cm
Diameter:
7 cm
8,5
8,5 cm
Weight (empty):
260 g
433 g
450 g
Packing size:
25,5x7,5x7,5 cm
30,5x8,5x8,5 cm
34,5x9x9 cm
Material:
stainless steel 18/8
Farbe:
silver
Suitable for:
camping, hiking, trekking,
tours, alpine crossings,
bivi bags, bonfire, festival, work,
biking, skiing,
ski tours, holidays,
travelling, sport