Drapery hammock TAINO 200 x 140 cm in many diferent colors by BB Sport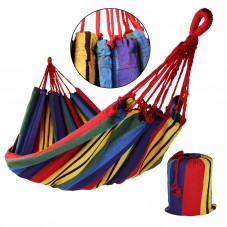 More productimages
Description
Drapery hammock TAINO 200 x 140 cm in many diferent colors by BB Sport
Not only an attractive eye-catcher for your garden - a hammock offers considerably more.
In many countries they are traditionally used for sleeping, here with us, they are used primarily for relaxation in the garden, on the terrace or on the balcony.
The colorful cloths have a lot to offer: The pleasant rocking movements promote sleep, regeneration and by the way the sense of balance. Simultaneously, the reclining position in a hammock is extremely gentle on the back and by the movements the back muscles is also constructed. Also a hammock is a cost effective and space-saving alternative to normal garden furniture. More and more hammocks are also used for therapeutic exercises and allegedly even learning in a hammock effective. Important for a good hammock is the size of the bed. Above all, the width. Around here when lying comfort sacrificing anything, the width of 140 cm should not be exceeded for an adult.
The TAINO is made out of a special poly-cotton blend that is skin friendly and cuddly but still weatherproof and hardly fades. The fabric is tear resistant and stable even after several rain showers.
An affordable purchase for complete relaxation of body and mind.
Details for the hammock TAINO:
Applications: garden, patio, porch, balcony, camping, park, swimming pool and much more
Max. loading capacity: 200 kg
Weatherproof
Fadeless
12 suspension rails on each side
With jewelery and handy storage sack
Technical details:
Type:
woven cloth hammock
Form:
rectangular
Lying surface:
200 x 140 cm
Total length:
320
Material:
Poly-cotton blend
(65 % cotton, 35 % polyester)
washable at:
30°C Handwash
Weight ca.:
1.500 g
Pack size:
26 x 15 x 20 cm
Adjustable Colors:
Indonesia, Mexico, Sylt
Mauritius, Chocolate, Beach
Mauve, Sri Lanka