Hammock chair hanging chair VENEZUELA in many colors by BB Sport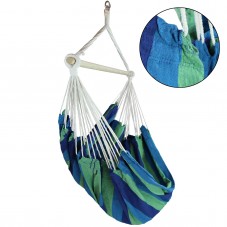 More productimages
Description
Hammock chair hanging chair VENEZUELA in many colors by BB Sport
Create your own oasis and enjoy the flair of Central America - with the perfect seating for all who want to relax again!
The hanging chair VENEZUELA is a free-floating relaxation space for many relaxing hours for young and old. Thanks to the special poly-cotton blend it is also suitable for outdoor use. The fabric is eudermic, cuddly but still weatherproof and it fades hardly. Even after several showers it remains tear-resistant and stable.
The hammock chair fits perfectly to any body shape, makes it extremely comfortable and by the way it strengthens the back muscles and sense of balance.
Rock relaxed about things and let the stress of everyday life with a good book or a glass of wine behind you.
Details for the hanging chair VENEZUELA:
Applications: garden, patio, porch, balcony, house etc.
Max. load capacity: 150 kg
weatherproof
UV resistant
Number of strings to hang-up: 26 each side
light-fast
high sitting comfort
integrated 360°-swivel
Necessary minimum height: 185 - 195 cm
Recommended distance from the ground: 40 - 50 cm
Simple attachment and removal of the cloth from the bar simplifies the maintenance
Not suitable for children under 3 years
Use only for private use
Technical Data:
Type:
Hammock chair
Bar width:
100 cm
Surface of the whole cloth:
190 x 121 cm
Length of the hanger strings:
between 27 cm (backwards) und 57 cm (ahead)
Material cloth:
Poly-cotton blend
Material spreader bar:
Hardwood
Material swivel:
Iron
Textile washable at:
30 ° Handwash
Weight ca.:
2,05 kg
Pack size:
102 x 12 x 10 cm
Available colors:
Mauritius, Chocolate, Beach
Mallow, Jamaica