Laundry bag laundry sorter SVEN with four compartments by BB Sport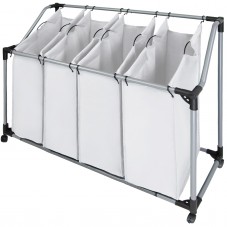 More productimages
Description
Laundry bag laundry sorter SVEN with four compartments by BB Sport
For those who love order and incidentally want to save time - our SVEN would be pleased to assist you.
In four subjects, each with ample content, can be separate the laundry by colour or temperatures in advance. The hard-wearing synthetic material spurns water and dirt. With the practical bows, which also serves as handles, the laundry can easily brought to the washing machine. The base frame is made of painted metal and plastic pipes, which are assembled with plastic connectors. The roll-feet allow a back-friendly transport of the laundry trolley. A single tray measures 20 x 37 x 48 (height front) and 62 cm (rear height).
To make sure nothing goes wrong: The pipes not press in the connectors forcibly, better screw slow. Pay attention to a straight angle, do not bend.
Meaningful sorting, easy transport and lot of space, SVEN offers everything a useful household helper needs.
Details for the mobile laundry bag SVEN:
Meaningful order and simultaneous time saving
Four large compartments, each 20 x 37 x 48 (height front) and 62 cm (height rear)
Individually removable and portable compartments
Ultra-light
Many colors with some contrasting stitching (depending on color)
Construction sketch
Technical Details:
Dimensions overall:
95,5 x 38,5 x 70/83,5 cm
Colors:
Stone grey, atlas white,
piano black, khaki,
brilliant blue
Subdivision:
4 attachable individual compartments, each with
20 x 37 x 48 (Height front) bzw. 62 cm (rear height)
Material:
100 % Polyester
Bar:
powder coated Metal and plastic bars
Weight:
ca. 3.500 g
Pack size:
95 x 25,5 x 8,5 cm