Sleeping Bag Inferno +14°C to -1°C Mummy Coupleable by BB Sport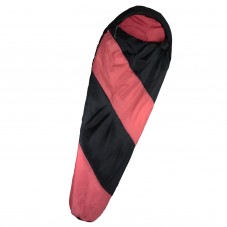 More productimages
Description
Sleeping Bag Inferno +14°C to -1°C Mummy Coupleable by BB Sport
Inferno is the ideal sleeping bag for mild summer nights! Since this single-layered sleeping bag is filled with just 80 g hollow fibers, its comfort temperature is at about plus 14 degrees. And even if the temperature should drop low at night, you are in good hands with our Inferno – it protects you up to the extreme temperature of minus 1 degrees. Inferno is equipped with a silky-soft inner lining, which gives you a cosy comfort. The preformed hood, which is also lined, can be narrowed by draw strings at the side, so warmth is kept inside. The high-quality hollow fiber ensures the necessary thermal insulation and is in no way inferior to the insulation performance of a down. Those who would like to sleep in the open countryside in summer or do not need a high warmth at low temperatures, is right on target with Inferno. Inferno offers you a superior value for money. Zipper optionally left or right.
Details:
preformed hood with drawcord
transport stuff sack made of 100 % polyester
two way zip made of nylon
coupleable
document compartment inside
insulating zipper baffles
colour: black/red
Technical Details:
Dimensions:
205 cm x 75 cm x 50 cm
Body Height:
up to 175 cm
Temperature Range:
comfort: + 14°C
limit: + 10°C
extreme: - 1°C
Pack Size:
28 cm x 14 cm
Weight:
600 g
Filling:
100 % Polyester
Filling weight:
80 g/m² Hollowfibre
Outer Material:
100 % Polyester
washable:
up to 30 °C
Other:
breathable
water-repellent
single-layer
preformed hood with drawcord
document compartment
coupleable
clamping protection
insulating zipper baffles
two way zip
190 T Polyester
appropriate EN-13537
Information about Hollowfibre:
Hollowfibre has the same isolating properties as the classical down. The advantage of hollow fiber sleeping bags is the insensitivity against dampness and water compared to the classic down sleeping bags. Hence, hollow fiber sleeping bags are washable.
You often find the term "synthetic fiber" in connection with sleeping bags. This quality, however, is often considerably lower than the quality of hollow fibers, even if hollow fibers are also synthetic fibers. A hollow fiber sleeping bag is always marked as such.