Vinyl Dumbbell 2 x 1 kg light blue Vinyl-Dumbbell by BB Sport inclusive of Training Guide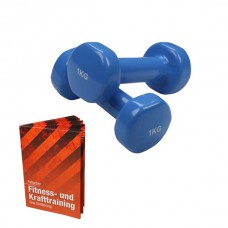 More productimages
Description
Vinyl Dumbbell 2 x 1 kg light blue Vinyl-Dumbbell by BB Sport
Workout with dumbbells is known as one of the most efficient sports and is perfectly suitable to build up and maintain muscle strength not only in your arms, but also in your chest and back. The range of use for vinyl dumbbell stretches from fitness and aerobic workout to exercises in the fields of rehab and physio. The non-slip surface as well as the slightly angular shape are especially floor friendly and avoid for the dumbbells to roll away. The vinyl dumbbells are available in 0,5 kg, 1 kg, 1,5 kg, 2 kg, 2,5 kg, 3 kg, 4 kg and 5 kg.
Details:
Non-slip surface
Floor friendly material
Angular shape which avoids for the dumbbells to roll away
Rinsing and disinfection won't harm the dumbbells
2 x 1 kg vinyl dumbbell in light blue
The scope of delivery also includes an illustrated training guide in German language including efficient training schedules and exercises for beginners as well as for intermediates.