Princess Slackline for Children 10 m by BB Sport (2 t)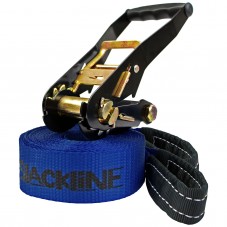 More productimages
Description
Slackline for Children 10 m "Princess" by BB Sport
Price per meter (yellow/green): 1,80 Euro
Price per meter (I Love Slackline): 2,30 Euro
This Slackline is suitable, as its name already implies, for our little princes and princesses. It enriches the romp in kindergartens as well as in schools and it`s an attraction on children`s birthday parties. Because of its low flexibility and a bandwidth of 5 cm, the "Princess" line is ideally suitable for little sunshines. Above all it`s a motor learning aid in this balance-orientated sport.
The band of this slackline is 8 m long, the ratchet is equipped with an additional 2 m band, so a total length of 10 m can be used.
You can order this line in green (unicoloured), yellow (unicoloured) or blue with print "I Love Slackline".
Instruction manual and transport bag are included.
Details:
Total length:
8 + 2 m (slackline consists of 2 parts)
Bandwidth:
50 mm
Max. strength:
2 tons
Transport bag:
included