Verlängertes Rückgaberecht bis 14.01.2017 für entspannte Weihnachtseinkäufe!
Slackline 10 m Princess (2 t) + 2 x Tree Protection + Ratchet Protection by BB Sport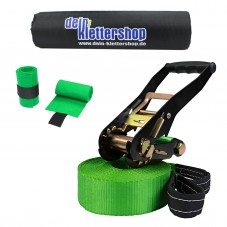 More productimages
Description
Combi Package: Slackline 10 m Princess + 2 x Tree Protection Super-Safe + Ratchet Protection Safety-First
Slackline for Children 10 m Princess by BB Sport
Price per meter (yellow/green): 2,50 Euro.
Price per meter (I Love Slackline): 3,00 Euro.
This Slackline is suitable, as its name already implies, for our little princes and princesses. It enriches the romp in kindergartens as well as in schools and it`s an attraction on children`s birthday parties. Because of its low flexibility and a bandwidth of 5 cm, the Princess line is ideally suitable for little sunshines. Above all it`s a motor learning aid in this balance-orientated sport.
The band of this slackline is 8 m long, the ratchet is equipped with an additional 2 m band, so a total length of 10 m can be used.
You can order this line in green (unicoloured), yellow (unicoloured) or blue with print "I Love Slackline".
Instruction manual and transport bag are included.
Details:
Total length:
10 m (slackline consists of 2 parts)
Bandwidth:
50 mm
Max. strength:
2 tons
Transport bag:
included
Ratchet Protection "Safety-First" for Slackline
The ratchet protection "Safety-First" consists of a nice foam with coating and is suitable for all common slackline models of different manufacturers. The ratchet protection particularly protects the feet from injuries and an unintended opening of the ratchet while slacklining. Additionally, it protects the ratchet from weather. The ratchet protection is simply wrapped around the closed ratchet and is closed with the sewed hook and loop/touch fastener on the bottom side.
Product data:
Material:
nice foam material with coating
Length:
40 cm
Width:
33 cm
Suitable for:
all common slackline models of different manufacturers
2 x Tree Protection Super Safe for Slackline
Delivery contents: 2 x tree protection 100 x 15 cm with firm hook and loop fastening. The Super Safe protects the bark of the tree and your slackline from abrasion and dirtiness. You have only big trees? No problem. You can also combine several Super Safes for extending the system.
Material: 100 % polyester.