Slackline 30 m Adventure (loadable up to 3 tons) + 2 x Tree Protection + Ratchet Protection by BB Sport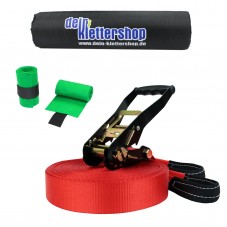 More productimages
Description
Combi Package: Slackline 30 m ADVENTURE + 2 x Tree Protection SUPER-SAFE + Ratchet Protection SAFETY-FIRST
Slackline 30 m ADVENTURE (loadable up to 3 tons) by BB Sport
Base price per meter: 1.33 EUR.
This line is adventure and sport in one go and a challenge for extreme strong minds. You can feel the interaction of concentration, balance and coordination. In order to handle this slackline, high mobility, skill and endurance must have first priority.
True artists can show which creations they already master. The Line ADVENTURE will give you fun, adventure, and pure life feeling.
The band of this slackline is 28 m long, the ratchet is equipped with an additional 2 m band, so a total length of 30 m can be used.
You can order this line in blue, red or green.
Instruction manual and transport bag are included.
Total length:
30 m (slackline consists of 2 parts)
Bandwidth:
50 mm
Max. strength:
3 tons
Transport bag:
included
Ratchet Protection SAFETY-FIRST for Slackline
The ratchet protection SAFETY-FIRST consists of a nice foam with coating and is suitable for all common slackline models of different manufacturers. The ratchet protection particularly protects the feet from injuries and an unintended opening of the ratchet while slacklining. Additionally, it protects the ratchet from weather. The ratchet protection is simply wrapped around the closed ratchet and is closed with the sewed hook and loop/touch fastener on the bottom side.
Product data:
Material:
nice foam material with coating
Length:
40 cm
Width:
33 cm
Suitable for:
all common slackline models of different manufacturers
2 x Tree Protection SUPER-SAFE for Slackline
Delivery contents: 2 x tree protection 100 x 15 cm with firm hook and loop fastening. The SUPER-SAFE protects the bark of the tree and your slackline from abrasion and dirtiness. You have only big trees? No problem. You can also combine several SUPER-SAFES for extending the system.
Material: 100 % polyester.