Slackline Frame Power Wave 2.0 inclusive Slackline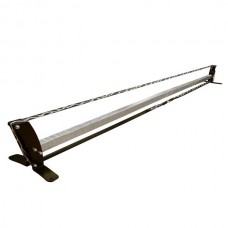 More productimages
Description
Slackline Frame POWER-WAVE 2.0 inclusive Slackline
Base price per Meter for 3m length = 76.65 Euros
Base price per Meter for 4m length = 62.49 Euros.
With this top classic every place becomes a stage. POWER-WAVE 2.0 gives you the opportunity to decide yourself when and where you want to slackline. Its advantages are not only its stylish aspect but also the line itself has an extraordinary design. Regarding the POWER-WAVE 2.0 our professional innovation and technic team succeeded in developing a real bestseller. The frame is made out of black metal and available in either 3 m or 4 m. The pedestals formed like shark fins are real eye-chtchers which ensure perfect stability. The line itself in a wavelike design adds that certain something to the POWER-WAVE 2.0. However the absolute highlight is its double use. Since the line is fixed through the loops swallowed into each other at the underside, this can be dismantled effortlessly and the Slackline can be used in the next park or your garden. Because of that at the use you are independent of wind, wateher or location and have an ideal companion for fun and game at every opportunity.
Due to its free standing stability the slackline frame can be used everywhere. Whether in fitness centres or for school teaching, for physiotherapy or in play schools, the POWER-WAVE 2.0 provides perfect allround training. Lots of fun is guaranteed also for the use at home. She offers itself as a presentation space for your store or on your corporate event.
POWER-WAVE 2.0 – the full set and professional kit for youngsters and professionals –- to go around, to get off and step by step become a slackline star! Now have fun with this fascinating sport and the training of concentration, balance and agility. Quick and easy assembling and dismantling of the slackline rack, second-by-second mounting and abatement of the slackline.
Details:
Material: aluminium
Lengths: 3 m / 4 m
Weight ca. 25,6 / 28,8 kg
Max. body weight:
3 m - rack: 120 kg
4 m - rack: 75 kg
Revolutionary dual use of the slackline
The task of our product confirmed therein, to create a dual use for the slackline and develop the highest level of quality given by the development and production of this product in Germany, an age comprehensive play and training equipment. The result is our slackline rack POWER WAVE 2.0.
The revolutionary thing is that the slackline can be used solo on trees, or also on the rack of the slackline. The slackline can be explained by a few, lose weight easy handles the frame and with its ratchet system quickly in the garden or in the park between two trees (10 m max. distance) re excited. On the 3-meter rack the slackline can be used indoors or on treeless open spaces. This simple handling gives you absolute weather-independent mobility and flexibility with POWER WAVE 2.0 slacken just when and where you want!
Balance, concentration and coordination
Our brand new slackline rack POWER WAVE 2.0 enriches the leisure activity of children, adolescents and adults alike. Balancing on the Line is a fun pastime for children and at the same time increases their balance and motor skills in a fun way. Larger slackliner can always come up with new tricks and adults maintain their body balance and agility into old age.