Verlängertes Rückgaberecht bis 14.01.2017 für entspannte Weihnachtseinkäufe!
Fitness Equipment Weight Bench Iron foldable by BB Sport inclusive of Training Guide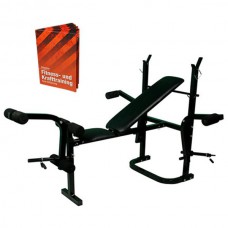 More productimages
Description
Fitness Equipment Weight Bench Iron foldable by BB Sport
You want to work out like a pro? The weight bench Iron is eminently suitable for home use and ideal for weight lifters with high standards. You will be able to smoothly exercise your legs, chest, back, bi- and triceps, shoulders and abdomen. The "Iron" is made of a durable steel tube construction. The comfortable back rest is composed of black imitation leather and easily adjustable in 4 different settings. The non-slip foam rollers guarantee perfect grip. Three spring caps ensure a secure fastening of the barbell discs.
Details:
Sturdy steel tube construction
Comfortable back rest
Back rest adjustable in 4 settings
Highly compressed foam rollers
Barbell rest
Variety of exercise options:
Chest training
Bench presses
Butterfly
Leg extensions
Leg curling
Abdominal training
Measurements:
approx. 150 cm x 62 cm x 105 cm
Diameter of weight disc carrier:
approx. 2.5 cm
Foam rollers:
Diameter: 13,5 cm
Back rest
76 cm x 24 x cm
Adjustable in 4 settings
Bench
24 cm x 26 cm
Maximum weight leg curl:
30 kg
Maximum weight butterfly:
35 kg
Maximum load on barbell rest:
80 kg
Maximum load on bench:
100 kg
Maximum height:
180 cm
Maximum weight:
120 kg
Measurements of packaging:
108 cm x 46 cm x 15 cm
Total weight incl. of packaging:
22,5 kg
The scope of delivery also includes an illustrated training guide in German language including efficient training schedules and exercises for beginners as well as for intermediates.