Slackline 15 m Freedom 2 tons + 2 x Tree Protection + Ratchet Protection by BB Sport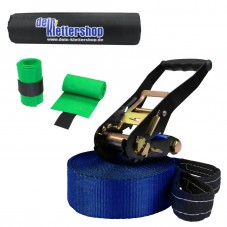 More productimages
Description
Combi Package: Slackline 15 m Freedom + 2 x Tree Protection Super-Safe + Ratchet Protection Safety-First
Slackline 15 m Freedom by BB Sport
Price per meter (unicoloured): 1,87 Euro.
Price per meter (with print): 2,20 Euro.
Ideal slackline for beginners and advanced. The 'Freedom' slackline stands out due to easy and save handling. Additionally, the length of 15 m is ideal for beginners and advanced, since a slackline swings less the shorter it is fixed. The width of the line with 5 cm guarantees each novice a good stand, is perfect for walking barefoot on it and allows you the first steps on the slackline. The multi-sewn ratchet is equipped with a safety lock.
The band of this slackline is 13 m long, the ratchet is equipped with an additional 2 m band, so a total length of 15 m can be used.
Slacklining is a fun way to train the whole body. It is an ideal supplement or recreational sport for skiers, horse riders, bikers, boarders, and of course climbers.
Instruction manual and transport bag are included.
Advice for beginners/novices:
Best used above soft ground (grass, sand)
Set up the Slackline at knee height
Possibly span an auxiliary cable for support
Supervise children when they are tightrope walking
Risk of slipping when wet
Details:
Total length:
13 + 2 m (2-parts Slackline)
Width:
50 mm
Ratchet:
with safety lock
Maximum load:
2 tons
Transport bag:
included
Colours:
red, unicoloured,
yellow, unicoloured,
green, unicoloured,
blue, unicoloured,
blue, with print "I Love Slackline",
red, with print "I love Slackline",
green, with footsteps,
yellow, with print "Do not cross",
red/white, with print "Sperrzone"
Ratchet Protection Safety-First for Slackline
The ratchet protection Safety-First consists of a nice foam with coating and is suitable for all common slackline models of different manufacturers. The ratchet protection particularly protects the feet from injuries and an unintended opening of the ratchet while slacklining. Additionally, it protects the ratchet from weather. The ratchet protection is simply wrapped around the closed ratchet and is closed with the sewed hook and loop/touch fastener on the bottom side.
Product data:
Material:
nice foam material with coating
Length:
40 cm
Width:
33 cm
Suitable for:
all common slackline models of different manufacturers
2 x Tree Protection Super Safe for Slackline
Delivery contents: 2 x tree protection 100 x 15 cm with firm hook and loop fastening. The Super Safe protects the bark of the tree and your slackline from abrasion and dirtiness. You have only big trees? No problem. You can also combine several Super Safes for extending the system.
Material: 100 % polyester