Verlängertes Rückgaberecht bis 14.01.2017 für entspannte Weihnachtseinkäufe!
Self-Inflating Mat in different sizes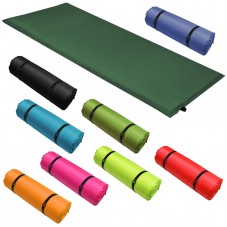 More productimages
Description
Self-Inflating Mat in different sizes
Compact, inflatable, durable and warming - this mat is a ideal companion for short camping trips.
The mat inflates itself with air after opening the valve and spares you taking a bulky air pump with you.
Hints for Handling and Storage:
The mat does not reach ist full volume at a moment's notice. Depending on the environment and/or previous storage it can take a bit longer. Particularly during the cold months, the foam needs a certain time to unfold. As soon as the mat has inflated itself completely, the valve needs to be closed.
Please always mind a correct storage of the mat, so you will take pleasure in it for a long time. Therefore, the following points are important:
Roll up your mat for transport only and do not store it rolled up not for a longer period of time, otherwise the filling material will be damaged significantly. In order to let the foam extend again after every transport and to avoid permanent deformation, always store your mat unfurled and with the valve left open, e. g. on a wardrobe or under the bed.
Included in delivery:
Self-inflating mat
Transport bag with adjustable drawstring
2 x elastic strap
Self-Inflating Mat Sunshine 190 x 60 x 2,5 cm
| | |
| --- | --- |
| Material: | Polyester PVC |
| Length: | 190 cm |
| Width: | 60 cm |
| Height: | 2,5 cm |
| Pack size, rolled up: | 61 x 14 cm |
| Weight: | 1196 g |
Self-Inflating Mat Blue-Night 200 x 66 x 6.0 cm
| | |
| --- | --- |
| Material: | Polyester PVC |
| Length: | 200 cm |
| Width: | 66 cm |
| Height: | 6 cm |
| Pack size, rolled up: | 65 x 19 cm |
| Weight: | 2162 g |
Isomatte Selfinflating Matte Deluxe 200 x 66 x 10 xm
The self-inflating mat "Deluxe" is a first-class innovation of a self-inflating sleeping mat. It is gladly called air bed since it provides for highest sleeping comfort with its height of 10 cm. Thanks to the self-inflating dimension, carrying along bulky and heavy air pumps is in the past. Hence it serves as an important basis for efficient recreation and is an indispensable companion for camping, trekking and other outdoor activities. After opening the valve this mat fills itself with air within less than 2 minutes. As soon as it is fully unfolded, the valve has to be closed again.
| | |
| --- | --- |
| Material: | Polyester PVC |
| Length: | 200 cm |
| Width: | 66 cm |
| Height: | 10 cm |
| Pack size, rolled up: | 65 x 23 cm |
| Weight: | 3119 g |