Camping Cot by BB-Sport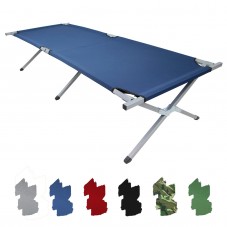 More productimages
Description
Cot in 2 different sizes and 4 different colours - optional with cushion pad by BB Sport
Camping Cot by BB-Sport
Feel pure nature and enjoy freedom under the stars with our camping cots. They are very light weight and are set up within a very short time. Our cots are perfect companions for your outdoor activities. Furthermore they are excellently appropriate for your camping, hiking and fishing tours.
Details:
Camping-cot strengthened entirely with a steel pipe
foldable
Transport bag included
Measurements: 190 x 64 x 41 cm or 200 x 70 x 52 cm
Clothing: Polyester - very sturdy
Packed: 96 x 17 x 10 cm or 100 x 18 x 10 cm
Colours: green, blue, black, grey, red and military
Weight: 7.5 kg bzw. 8.2 kg
max. load: 100 kg
We also offer suitable cushion pads for our cots - available in two different sizes
Cushion Pad in two different sizes by BB Sport
Perfectly combinable with our camping cot. This cushion pad is designed for universal use and can thus be used as a sleeping rug in several differnt occasions. For more sleeping comfort you can also put it on your air matress or on your insulation pad. Our cushion Pad is easy to fix with the help of broad laces with 3 hook-and-loop fasteners at the bottom side. The breathable, warming filling, also used for winter sleepingbags provides high sleeping comfort. Due to this high quality equipment you will feel like sleeping in your own bed.
Details:
Weight: 1.3 kg bzw. 1.5 kg
Measurments: 190 x 64 cm or 200 x 70 cm
Material: Polyester